Environment-friendly at sea – these tips will help you save the environment as a traveller
The Baltic Sea and surrounding archipelago are our living conditions. At Eckerö Line we prefer ways of working that have as little environmental impact as possible. We are for example reducing food waste or optimizing the ships operating speed. Here we give some advice on how our passengers also can be environmentally responsible during their voyage.
At Eckerö Line environmental work is a natural part of our personnel's daily lives. For example, we reduce fuel consumption by recovering residual heat from the ships engines and by optimizing operating speed. Our shore-side electricity preparedness will in turn enable us to use land-based power instead of fuel while in port in the future.
We have sophisticated ways to sort waste for recycling. In Tallinn harbour we co-operate with Green Marine, a company specialized in this field. You can read more about these and our many other responsible ways to work here.
Even as a passenger, you can do something to help the environment. We have compiled five tips for more environment-friendly ship travel.
1. Be on time at the harbour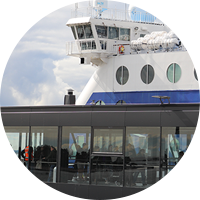 You may not think that being on time can help save the climate. When check-in runs smoothly and the ship can depart on schedule, there is no need for higher speed at sea. Fuel consumption can then be reduced through speed optimization.
2. Use public transportation to West Harbour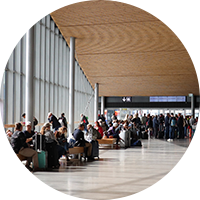 When travelling with m/s Finlandia, you can reach Helsinki West Harbour by tram lines 6T and 7. If you come from nearby and travel light, you can use a city bike to get to the harbour during summer times. The bike station is just outside the T2 terminal.
3. Together against food waste at the Buffet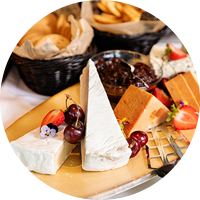 At sea it is nice to enjoy the delicacies at Buffet Eckerö. Because of our commitment to reducing food waste, we do not keep all food on display but serve by consumption. As a customer, keep in mind that you can go back for seconds as many times as you like, there is no need to fill the plate to the extreme. This is a way to reduce food waste.
4. Tote bags in the Market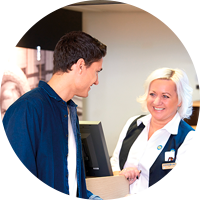 In order to reduce unnecessary plastic waste, all plastic bags are chargeable in our Eckerö Market store. We encourage our customers to use a bag only when necessary. In addition we offer tote bags for a more lasting use.
Minimize the use of disposable dishes
You can save the environment by minimizing the use of disposable dishes and by using biodegradable ones whenever possible. For example, at the café on m/s Finlandia more than 30 000 shrimp sandwiches are served a year, so biodegradable serving dishes matter. As a customer, you can reduce the use of disposables by for example enjoying a nice cup of coffee at our cosy cafés instead of a take-away cup. Coffee is served at six different places on m/s Finlandia, and at three of them you also get specialty coffees.